Capitol Bistro, Washington, DC
Dine at Capitol Bistro, Washington, DC, one of the on-site restaurants at our Holiday Inn hotel! Enjoy classic American fare at our inviting and casual restaurant, offering a buffet and a la carte menu. Whether you're traveling on business or with family on vacation, there's something for everyone on the menu, making our convenient restaurant the perfect place to eat amidst your busy itinerary.
Dining out? Don't forget to ask our staff for more DC dining recommendations and places to eat by the Wharf and Chinatown.
Breakfast:Sunday – Saturday (daily) 6:30AM – 11:00AM (buffet ends at 10:30am)
Lunch: Sunday – Saturday (daily) 11:30AM – 2:00PM

Dinner: Tuesday – Sunday 5:00PM – 9:00PM (new)

Bistro Details
Breakfast Hours: 6:30 AM – 10:30 AM on weekdays.
Restaurant Hours: 6:30 AM – 12 AM every day.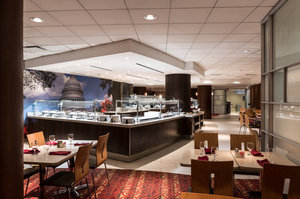 Breakfast
Fill your plate with a variety of breakfast foods from our hot buffet! Whether you're looking for healthy options or want to indulge with a treat, our buffet selection changes every day and usually includes omelets, bacon, pancakes, and fresh fruit.
Order off the a la carte menu for a dish prepared just for you.
Dine for a discount when traveling with the whole family! Children can choose meals from our "Kids Eat Free" menu or enjoy a reduced price at our buffet.
Stop by our front desk for coupons to be used by an adult accompanied by children under age 12.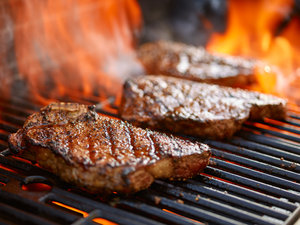 Lunch & Dinner
Featuring a menu of traditional bistro entrées with a twist, Capitol Bistro offers a contemporary dining experience in the heart of DC. Enjoy burgers, ribeye steak, crab cakes, and a number of heart-healthy entrées.
Stop by for a meal close to a number of local offices and government agencies.

Order up room service from the dedicated menu in your room.
Assemble your own plate at our lunch buffet on weekdays!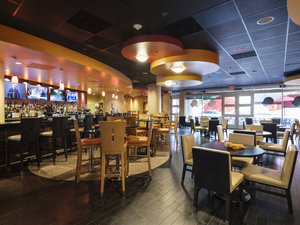 Multiple Eateries
In addition to the Capitol Bistro restaurant in Washington, DC, our hotel offers a variety of dining options making it easy for our guests to enjoy a tasty meal during their stay.
Spend your evening at 21st Amendment Bar & Grill for a trendy ambiance and tasty cocktails.
Grab a cup of coffee and at a snack at our on-site Starbucks.
Stop by our 24-hour Lobby Market to pick up snacks and sweets any time of day or night. There's a number of community tables in the atrium to sit at.
Enjoy quality cuisine at our convenient on-site restaurant, Capitol Bistro in Washington DC!