Convenient Hotel near Washington Monument
Visit the centerpiece of the National Mall during your stay at our hotel near Washington Monument in Washington, DC! Designed by architect Robert Mills as a memorial to honor America's first President, George Washington, the Washington Monument is a 555-foot-high obelisk that stands as a glorious focal point to the monuments and museums on the National Mall. Don't miss this popular attraction when you choose to stay at Holiday Inn Washington Capitol - National Mall!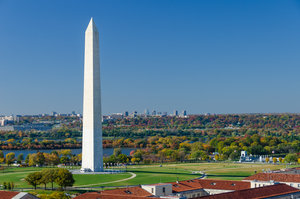 Visitor Information
Walk just 22 minutes (1.1 miles) from our hotel near Washington Monument. Walk along Independence Ave SW and then Jefferson Dr. SW through the National Mall.
There is no cost to visit the monument, but tickets are required to ride the elevator. Tickets are available on a first-come, first-served basis at the Washington Monument Lodge on 15th Street.
The monument is open 24 hours a day, 7 days a week.
Rangers are on duty daily, from 9:30 AM – 10 PM.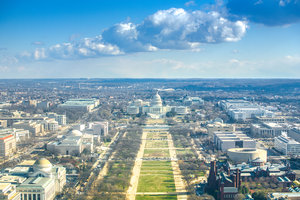 Activities Around the Monument
Take a self-guided tour of the grounds or ride the newly-opened elevator to the top! Visitors can get a bird's-eye view of the city and reflecting pool from the observation deck that's perched 500 feet above the ground. We also recommend visiting the museum to learn more about the monument's history.
Before or after the tour, visitors can relax by the reflecting pool and see the fifty American flags - one for each state - that fly around a large circle entered on the monument 24/7.
Stay at our hotel close to the Washington Monument for easy access to a number of annual events, such as the 4th of July celebration, summer music series, and numerous projection shows.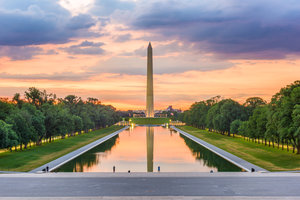 FAQ
Why does the color change on the outside of the monument?
During construction, the Washington National Monument Society ran out of money and the project was stopped. In 1879, the U.S. Government took over the project and began work on the upper two-thirds of the structure, but with marble cut from a different quarry. Originally, the two sections matched well, but time, wind, and rain have caused the sections to weather differently.
Does the monument sway in the wind?
The Washington Monument is constructed completely out of rigid stone, so it does not bend or move like modern skyscrapers can. Visitors often do feel movement when inside, but this is due to the floor shaking from people walking around and from vibrations made by the elevator.
See more Washington Monument FAQ
Book your stay in one of the spacious rooms available at our hotel near Washington Monument, conveniently located for travelers who want to explore the area on foot!